Yeomen (F) Register to VoteBoston National Historical ParkThe Yeoman (F) of Boston Navy Yard, 1918US Naval Archives – Department of the NavyYeomen (F) (F for female) were the first women to enlist in the United States military. Their service in World War I was made possible by the Naval Act of 1916, which created a naval reserve force. According to the aptly named history of the yeomen (F), Ebbert and Hall's The First, the Few, the Forgotten, while women were barred from joining the regular Navy, the Naval Reserve force provided an avenue for their participation as "yeomen"—the naval term for clerks.The yeomen (F) were primarily young women. Many came from large immigrant families. To qualify, yeomen (F) were required to complete four years of high school. Some had also attended college-level secretarial schools.1 To be accepted, the women had to pass not just a physical examination, but a skills test as well. Upon acceptance, their designation was typically listed as "stenographer." Technically proficient in shorthand, stenographers rapidly wrote dictations using abbreviations and symbols. In reality, though, these Yeoman (F) stenographers were also responsible for typing, bookkeeping, filing, and payroll, which required copious paperwork. Some even branched out to become radio and telephone operators, electricians, and draftsmen. As Ebbert and Hall put it:The women were enlisted just as men were, doing many of the same jobs, receiving the same pay, subject to the same military regulations, wearing similar uniforms, and required to meet the same standards of performance, and they received naval benefits.2Despite these significant changes, though, only White women could enter this new program. All Black women were excluded by the Naval Act of 1916, and the armed forces as a whole remained segregated.During America's participation in World War I, over 10,000 women served as yeomen (F) across the country. Over 1,000 worked in the First Naval District, which encompassed Boston and the Boston Naval Shipyard (today's Charlestown Navy Yard). As the Navy increased production to meet the needs of World War I, they hired more workers to build, repair, and supply ships. Even including the 150 women who worked as civilians in the ropewalk, though, the female workforce at the Navy Yard was outnumbered by men roughly 10 to 1.3 Nonetheless, the service of the yeomen (F) at the Boston Naval Shipyard enabled more men—who would otherwise perform these shipyard duties—to enlist and fight overseas.

Yeomen (F) Register to Vote (U.S. National Park Service)
Yeomen (F) Register to Vote
Boston National Historical Park

Yeomen (F) (F for female) were the first women to enlist in the United States military. Their service in World War I was made possible by the Naval Act of 1916, which created a naval reserve force. According to the aptly named history of the yeomen (F), Ebbert and Hall's The First, the Few, the Forgotten, whilewomen were barred from joining the regular Navy, the Naval Reserve force provided an avenue for their participation as "yeomen"—the naval term for clerks.
The yeomen (F) were primarily young women. Many came from large immigrant families. To qualify, yeomen (F) were required to complete four years of high school. Some had also attended college-level secretarial schools.1 To be accepted, the women had to pass not just a physical examination, but a skills test as well. Upon acceptance, their designation was typically listed as "stenographer." Technically proficient in shorthand, stenographers rapidly wrote dictations using abbreviations and symbols. In reality, though, these Yeoman (F) stenographers were also responsible for typing, bookkeeping, filing, and payroll, which required copious paperwork. Some even branched out to become radio and telephone operators, electricians, and draftsmen. As Ebbert and Hall put it:
The women were enlisted just as men were, doing many of the same jobs, receiving the same pay, subject to the same military regulations, wearing similar uniforms, and required to meet the same standards of performance, and they received naval benefits.2
Despite these significant changes, though, only White women could enter this new program. All Black women were excluded by the Naval Act of 1916, and the armed forces as a whole remained segregated.
During America's participation in World War I, over 10,000 women served as yeomen (F) across the country. Over 1,000 worked in the First Naval District, which encompassed Boston and the Boston Naval Shipyard (today's Charlestown Navy Yard). As the Navy increased production to meet the needs of World War I, they hired more workers to build, repair, and supply ships. Even including the 150 women who worked as civilians in the ropewalk, though, the female workforce at the Navy Yard was outnumbered by men roughly 10 to 1.3 Nonetheless, the service of the yeomen (F) at the Boston Naval Shipyard enabled more men—who would otherwise perform these shipyard duties—to enlist and fight overseas.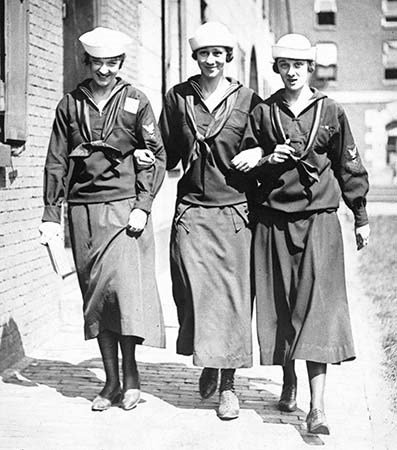 All yeomen (F) enlistments ended on October 24, 1920, although many had been discharged after the war ended in November 1918. Some of these women, however, continued work at the shipyard as civilian employees through their veterans' preference on civil service exams.4 At a time when less than 25% of American women worked outside the home, the yeomen (F) stepped out of traditional female roles and joined an emerging trend of women becoming clerical workers. By 1920, almost half the clerical workers and 92% of stenographers in the national workforce were women.5 World War I and yeoman status provided these female military pioneers the opportunity to showcase their skills and education in support of the war effort.
These women were also unique in another way: They were part of the first generation of female voters. In August 1920, the 19th Amendment to the United States Constitution took effect, recognizing that women 21 years and older had the right to vote. The 19th Amendment of the U.S. Constitution states:
The right of citizens of the United States to vote shall not be denied or abridged by the United States or by any State on account of sex. Congress shall have power to enforce this article by appropriate legislation.
Before the passage of the 19th amendment, individual states to determined women's access to the vote. Fifteen states had granted full voting rights to women and twelve states permitted women to vote in presidential elections.6 Massachusetts was not among them, having turned down an amendment to the state constitution for woman suffrage as recently as 1915. In 1879, the Massachusetts Legislature granted women the right to vote for their local school committee members. Some women did register to vote from 1880-1920, knowing that they could only vote for that one office alone.7
What follows are short biographies of 20 yeomen (F) who registered to vote between 1917 and 1921: 19 from Boston and one from a small town nearby. Eight married after the war, while 11 never married and one was a widow when she enlisted and did not remarry. For women who remained single, being a yeomen (F) enabled them to gain experience and an income during and after World War I. They mostly spent their careers doing clerical work and lived much of their lives with family members. They represent some of the first career women and female white-collar wage earners. However, it should be noted that whereas men could use clerical work as a springboard to management positions, these women performed the same tasks, namely stenography, typing and bookkeeping, throughout their working lives.
Blanche Billington
Blanche Billington registered to vote prior to the passage of the 19th Amendment. While her motivations for registering are unknown, she may have had a desire to vote for school committee members or wished to celebrate adulthood with this new privilege.Billington enlisted in the Naval Reserves in 1918 as a Yeoman 2nd Class when she was 24 years old. She married in 1921 and had three children. In both the 1930 and 1940 censuses, she was not listed as working outside the home. In 1940, her husband was listed as a chauffeur for the City of Boston. As Blanche Towle, her married name, she was, however, very involved in Catholic charities and fundraising for St. Elizabeth's Hospital.8 Her 1960 obituary listed her as past president of the Kennedy Foundation, and requested donations to it in her name.9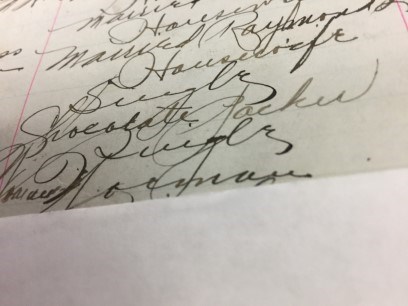 Alice F. Driscoll
The 1920 census listed Driscoll as a "Cashier Bookkeeper" at the Navy Yard. Like Blanche Billington, she also registered to vote in 1917 when she turned 21. In the register of voters, the official listed Driscoll's occupation as "yoeman" in the Navy Yard, misspelling the position. Driscoll married John Murphy in 1922, and by 1940 she was listed as the mother of four children, ages 6-16. Driscoll is the only known instance of someone registering to vote as a "yoeman," even if it was spelled incorrectly.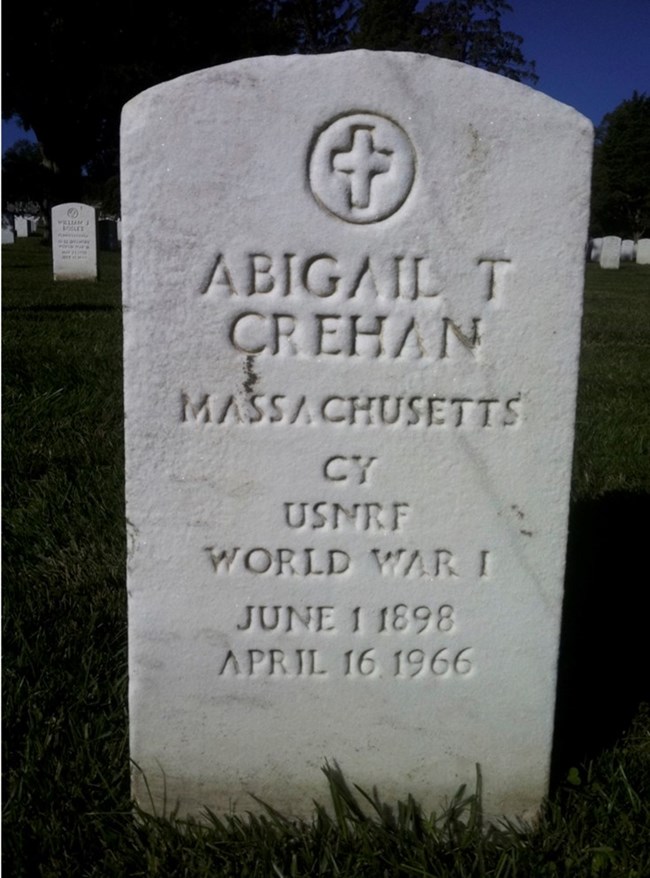 Abigail Collins
Abigail Collins had deep roots in Charlestown. She lived with her family on Monument Square. Collinswas the daughter of former state representative, Michael W. Collins, who remained active in Democratic politics until his death in 1956.10 Abigail Collins joined the Naval Reserves at the age of 18 in 1917 as Yeoman 1st Class and later was promoted to Chief.11 The Boston Globe stated that both she and her sister were "active in social affairs." Not surprisingly, Collins, her mother, and a sisterregistered to vote in 1920 at the earliest opportunity. Voter records often showed women, including the yeomen (F), registering with family members and neighbors, accounting for many new voters in their 60s, 70s and even in their 80s.Collins married Frederic Crehan, a World War I army veteran, in 1920 and soon after moved to Maplewood, New Jersey, where she spent the rest of her life. 12 Frederic was an educator while Abigail Crehan remained at home and raised two children. Most of the former yeomen (F) remained very near to where they started out, some even living in the same house for all or most of their lives. Collins was an exception; she was the only one of the married women to leave Massachusetts after marriage. She and her husband are both buried in Arlington National Cemetery. Her headstone identifies her as a Chief Yeoman, United Stated Naval Reserve Forces, World War I. Rather than burial in Arlington by virtue of it is clear that she is buried there in her own right.13
Mildred Curtis
Curtis registered to vote on August 20, 1920 at the age of 23. In 1923, she married Edward P. Ryan, who for many years served as chief deputy sheriff of Suffolk Superior Court.14 Mildred Curtis Ryan was not listed in the 1930 or in the 1940 census as employed outside the home, but her obituary stated that she had worked as a medical aide in the Boston School System.15 She was the mother of four children and was extremely active in the American Legion Bessie Edwards Post, made up exclusively of women veterans; she even served as leader of the Post.16 This was a departure from most women prominent in American Legion Posts, who largely remained unmarried.
Esther McCall
McCall enlisted as a Yeoman (F) at the age of 21 in May 1917, soon after the United States' entry into World War I. She previously worked as a stenographer in a downtown Boston department store. In appreciation, the office employees presented her with a pearl and cameo pendant when she left.17 She served as a Chief Yeoman. Even before the passage of the 19th Amendment, McCall entered the political arena when she appeared before the State Legislature in 1919 as part of the lobbying group to secure inclusion of Yeomen (F) into the Bonus Bill that would give veterans a $100 bonus.18 She was an active member of Roxbury Post 44 of the American Legion. In 1936, McCall signed the petition to the United States Congress for a national charter and incorporation of the National Yeomen (F), an organization founded in 1924 to preserve the legacy and history of their unique service.19 In 1922, she resigned as private secretary to Commander Ward K. Wortman, assistant commandant of the First Naval District.20 That same year she married Francis X. McLaughlin, a veteran who had served with the Medical Corps in France.21 The couple and their three children made their home at the Norfolk (Settlement) House Center in Roxbury, where Francis served as physical director for many years.22 McCall registered to vote on August 20, 1920, following in the footsteps of her sister who registered in 1917 at the age of 29.
Helen Beecher
Beecher registered to vote in 1920 at the age of 21. She enlisted on November 7, 1918 at the age of 19 and served for only five days as a landsman, a trainee status prior to the Yeoman rate, before the war ended on November 11. However, she still worked as a stenographer in the Navy Yard in the 1920 census as a civilian. In 1930, Beecher was employed as a stenographer at the State Street Trust Company until her marriage to John Bride on June 14.23 She lived into her nineties and was survived by three children and 13 grandchildren. She was a life-long member of St. Patrick's Parish in Roxbury and attended school there.24
Marion T. McEachern
McEachern came from a large family that saw service in World War I. She was one of four sisters who served as Yeoman (F) while her three brothers joined the Army. McEachern was a Chief Yeoman. In the 1920 census, she was listed as a stenographer in a bank living at home with her mother and all her siblings. After her marriage to Edmund G. White about 1923, she no longer appeared on census lists as employed. In the 1930 census, Marion McEachern White was living with her husband, a real estate salesman. By 1940, she and Edmund were joined by a son, George, their only child. McEachern registered to vote in 1920 at age 22 in time to cast her vote in the first presidential race in which Massachusetts women could participate. Other than census records and city directories, she then disappeared from public life until 1967 when she reappeared in a Boston Globe article about the "Yeomenettes" 41st reunion.25 She moved to Cape Cod in the 1980s and died in 1993 at the age of 100. Two of her siblings survived her.26
Frances Glover
Glover is the only representative of the Yeomen (F) who registered to vote in 1920 who did not live in the City of Boston. The 1920 voting records of women who lived outside of Boston have thus far been unexplored. Yeomen (F) lived in many towns near Boston including Cambridge, Brookline, Somerville, Winthrop, Malden, as well as Wakefield, Salem and Framingham. Undoubtedly, a search in their hometowns would yield more 1920 voters and more unique stories. Glover was born in Boston, and grew up in comfortable circumstances in the small semi-rural town of Wayland, about 16 miles west of Boston. Her family had inherited a farm and had a live-in housekeeper. Records indicate that Glover attended college before enlisting as a Yeoman 1st Class in July 1918 at age 26. In 1920, she was listed as working as a clerk for the Red Cross and later at Harvard University. Glover was an active member of Wayland's American Legion.27 She also was an organizer of the Little Theatre Group at Wayland's Vokes Theatre in 1937.28 That same year, Glover married a prominent Boston attorney and a founder of the Greater Boston Community Fund, Charles Rogerson29 Glover devoted much of her time to charitable endeavors.30 She is the only known Yeoman (F) from Wayland.31
Patricia P. Gleason
Patricia Gleason was 35 years old when she registered to vote in 1920. Before and after her enlistment in April 1917 (one of the first to do so), she worked for the City of Boston.32 Gleason was appointed postmaster at the Navy Yard, serving in the postal station in Building 24.33 She was the only woman voter from 1920 in our survey who can be tied to a political party. Gleason was an active member of the Women's Democratic Club of Massachusetts, as was her sister Minnie.34 She was also active in the Bessie Edwards Post of the American Legion.35 Gleason signed the Congressional petition in 1936 to incorporate and grant a charter to the National Yeomen (F), which had been founded in 1924.36 She is a clear example of an independent career woman, an activist and a proud Yeoman (F), who dedicated her life to service.
Helen Regan
Regan enlisted in the Naval Reserves on May 1917 at the age of 33. She served as Yeoman 1st Class and was promoted to Chief. She registered to vote in 1920 along with her 59-year-old mother, Johanna. Regan was a member of the initial 1919 delegation to the Massachusetts State Legislature to lobby for inclusion of Yeomen (F) in the Bonus Bill.37 She was an active member of the Flaherty American Legion Post in East Boston, and later in the all-woman Bessie Edwards Post. Helen spent her working career in the employ of the federal government, mainly in the Veterans Bureau. Her 1975 obituary listed her as living in Winthrop and made note of the fact that she was a "late veteran of World War I."38 Most obituaries of Yeomen (F) did not mention their naval service.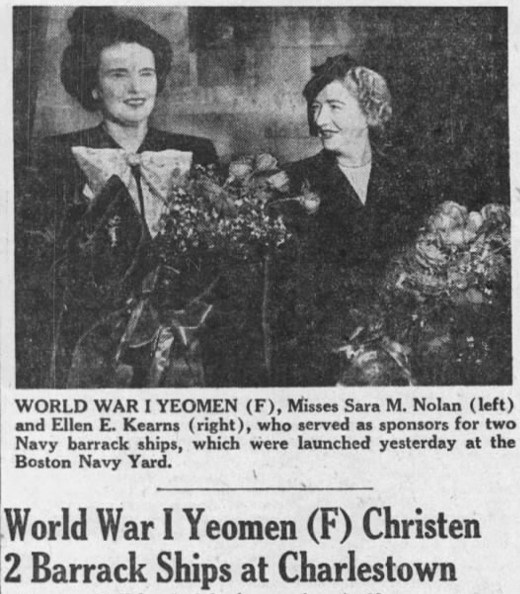 Ellen E. Kearns
Kearns enlisted May 13, 1918 at the age of 22 and served as Yeoman 3rd Class, later attaining a promotion to Yeoman 2nd Class. She and her mother registered to vote in 1920. In 1944, Kearns and former Yeoman (F) Sara Nolen were sponsors at a double launching of two naval auxiliary barracks ships built at the Boston Navy Yard.39 The Quincy Patriot-Ledger reported on August 8:"She [Kearns] was a Yeoman (F) in 1918 and has been a Civil Service employee since. Until her recent promotion a few weeks ago, she had been secretary to the manager of the Boston Navy Yard for 12 years. This was the first time either (she or Sara) has sponsored a ship, although they have handled much paper work relative to new vessels… during the years they have been associated with the navy."Kearns signed the 1936 petition in support of the incorporation of the National Yeomen (F).40 Kearns died in Weymouth on Jan. 11, 1986, having devoted her life to serving the navy at the Charlestown Navy Yard.41
Josephine L. Anderson
Anderson enlisted at age 19 in May 1918. Her military record says she served as Yeoman 2nd Class. In 1920, Anderson, 21 years old, and her mother, Margaret, 62, both registered soon after the 19th Amendment was ratified. Her sister, Christine, registered in 1922 when she turned 21. Anderson never married and was extremely active for many years in the Fitton Notre Dame Alumnae Association, an East Boston school that she had attended. In 1944, Anderson was among those honored for her long service as a secretary for the War Department.42 She died in 1986 in East Boston, where she had spent her life.
Elizabeth Gillogly
The Boston Globe announced Gillogly's enlistment on May 21, 1918. She registered to vote on October 8, 1920 at 25 years old. Her father was a Boston fireman.43 Gillogly never married and lived at the same address in Charlestown into the 1940s. She listed her occupation in censuses as a stenographer (1930) and as a typist (1940) at a bank. The few newspaper articles she appeared in were associated with her work in Catholic Charities.44 She died in Winthrop in 1984 and her obituary mentioned her naval service in World War I.45
Marion Hovey Manning
Manning registered to vote on September 30, 1920 at the age of 26. The Boston Globe announced her enlistment on May 15, 191846, but her rank is unknown. She was still at the Navy Yard in 1920. Manning worked as a stenographer in private industry according to the 1930 and 1940 censuses, still living with her parents or a parent. By 1940, she lived in Quincy and by the time of her death in 1986, she lived in Rockland, Massachusetts. A Dorchester native, Manning has proven to be the most elusive of the Yeomen (F) who registered in 1920 and was never mentioned in any other known newspaper records.
Alice G. Driscoll
Alice G. Driscoll (as opposed to Alice F. Driscoll, a 1917 voter) enlisted September 19, 1918 at the age of 20 as a Landsman training for Yeoman. She came from a large family in Charlestown of which she was the youngest; she had five sisters and two brothers. She registered to vote on October 11, 1920. Neither of her parents were living by that time, however. Her mother died when she was an infant and her father in 1919. By 1930, she had moved to Medford, where she resided the rest of her life with two of her sisters. In 1930, she was listed as a telephone operator at a chemical company, and in the 1940 census, she was listed as a bookkeeper. Driscoll signed the petition to the United States Congress in 1936 to confer legal status on the National Yeomen (F), founded in 1924.47 She died in 1969 the "beloved aunt of six nieces and nephews" and presumably the last survivor of eight children.48
Jane A. Carney
Jane Carney was the oldest in a large family with a widowed father and six siblings. Her mother had died in 1913. Even so, she enlisted in July 1918 at age 25, serving as a Yeoman 3rd Class. She spent her career as a secretary. Carney was very active in the Bessie Edwards Post of the American Legion in the 1920s and 1930s and served on the executive committee.49 She registered to vote in November 1921, even though she was old enough to register in 1920. She died in 1982, leaving only two sisters.50
Angeline Maney
Maney's enlistment was announced the Boston Globe in May 1918. She registered to vote when she was 21years old in 1920 with her sister Mary. She was active early on with the American Legion Francis G. Kane Post in Dorchester.51 In the 1930s, Maney worked in the entertainment industry on the publicity staff of the Metropolitan Theatre.52 By 1940, she was again employed in government work (it is listed on the census as Department of "Agre Culbire," most likely Agriculture) and aided the Greek War Relief Association. She lived with her parents in the same house in Paisley Park, Dorchester her whole life. She died a month after her father's death in 1951, 33 years his junior. At the time of her death, Maney was listed as executive secretary of the Boston store of Bonwit Teller.53
Anna M. McCarthy
McCarthy enlisted as a Yeoman at the age of 24 in May 1918 and served as Yeoman 1st Class.54 In 1920 when she registered to vote, Anna was living with her mother, Margaret, in Charlestown and working as a stenographer at the Navy Yard. She then disappeared from published records for twenty years. In the 1940 census, someone with her name appeared as "sister" to the head of the household; a very common designation as many unmarried former Yeomen (F) lived with family members. A more careful look revealed that all the women in Anna's household were listed as "sisters" and all with different last names. They all lived at St. Matthew's Convent in Canton, Massachusetts and were teachers at the religious school. The City Hall in Framingham, Massachusetts was able to confirm that Anna was indeed our Yeoman (F) from her death certificate. She died there in 1986 at the age of 93 at a retirement home for elderly nuns.55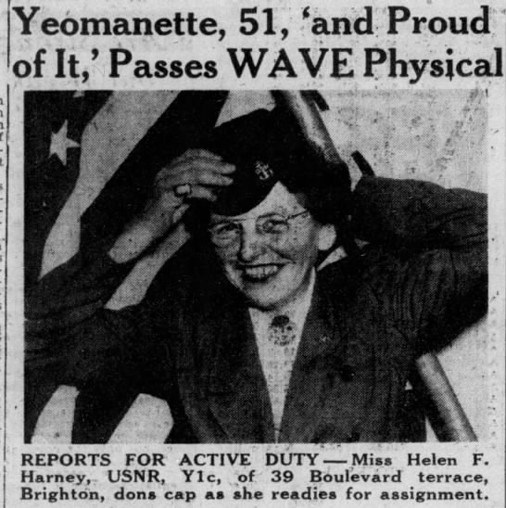 Helen Harney
Harney was 21 years old when she registered to vote in 1920; her younger sister, Doris, who also served as a Yeoman (F) registered when she turned 21 years old in 1922. Helen Harney served as a Yeoman 3rd Class, enlisting at the age of 19 in August 1918. She worked in civilian government positions, mostly as a telephone operator for the City of Boston, into the 1940s. During World War II, Harney was back on duty at the Navy Yard, this time as a civilian specialist on property and supply with the United States Army. In 1950, Harney returned to her roots in the Navy and enlisted as a WAVE (Women Accepted for Volunteer Emergency Service) during the Korean Conflict. That made her the oldest WAVE in the Navy. She was delighted to pass the physical, saying "When you've hit 50 and go through a physical that lots of boys and girls can't pass, it makes you feel pretty proud."56 Harney stayed in the Navy, serving as master-at-arms at the women's barracks in Newport, Rhode Island and Bainbridge, Maryland.57 In 1961, she joined about 250 other women veterans marching in President John F. Kennedy's inaugural parade.58
Daisy M. Pratt Erd
One young widow with children was among the former Yeomen (F) who registered to vote in 1920. Erd was born in Nova Scotia in 1888; her family immigrated to the United States when she was an infant. She was raised in Chicago and became a naturalized American citizen. Erd registered to vote in 1920 at the age of 32 and is considered one of the most distinguished yeomen (F). While widowed by the time she enlisted in April 1917 and mother of two young daughters, Erd was known for her considerable musical talents and leadership abilities.59 According to Lettie Gavin's American Women in World War I: They Also Served, "Erd was awarded the Gold Medal for Merit 'War Service,' not an official Navy award but a personal token of esteem from Captain W.R. Rush, USN, commandant." At the time of writing, Erd also stands out stands out as being the only Yeoman (F) with a Wikipedia entry, featuring her musical compositions.After the war ended, Erd was the first woman to join the American Legion in July, 1919.60 She soon organized the first women's post of the American Legion with Mrs. Lila Woodbury Lane, who was a known suffragist. Erd served as Post Commander.61 Known as New England Post 29, with a charter membership of 200, enrollment was open to all women of Greater Boston who had served in the military. By September 1919, membership was about 800. Her American Legion Post was dedicated to finding employment for women, and to obtaining sick benefits for them.62 But first, the location of the clubhouse needed to be resolved. Erd and New England Post 29 were apparently caught up in a turf war between the Bunker Hill Post of the American Legion and the Abraham Lincoln Post of the Veterans of Foreign Wars (VFW) in Charlestown.63 The Bunker Hill Post asserted that the VFW Post was trying to become an American Legion Post through its association with Erd's Post and "maintained that there was not room in Charlestown for two posts and that Post 29 was there under false pretences [sic]."64 After six months of acrimonious fighting with the State and National American Legion Executive Committees and a trip to Washington, D.C. to plead her case, Erd's Post had its charter revoked in June 1921.65 The last mention of Erd and her Post appeared in December 1921 in regard to a Christmas party by the now rogue New England Post with her as commander.But Erd had an even bigger fight to wage. She was fighting for her life. During 1922, she was being treated for tuberculosis and, by 1923, Erd was in California in a hospital for disabled veterans. She was later transferred to Asheville, North Carolina where she died on October 24, 1925 at the age of 37. The cause of death was "Tuberculosis contracted during military service." This dynamic and talented woman was a casualty of the War.66
Conclusion
The women featured in this article were not radicals, and to the best of our knowledge they were not active in the suffrage movement. Yet, on at least two counts, they stand out as pioneers. Foremost, in becoming the first women to enlist in the United States military. Secondly, in registering to vote as soon as the opportunity presented itself.
Many of these yeomen (F) came from the poor and lower-middle classes, often with immigrant parents and many siblings. Other yeomen (F) came from means that were more middling, but needed to work as single women. They all enlisted in service to their country in a time of war. After their service, most remained in the same neighborhoods they grew up in, with some living in the same house their entire life. Their willingness to venture into the world and expand their skills and knowledge surely followed them throughout their lives. For those who married and raised families, their experiences undoubtedly enriched the lives of their children and grandchildren and offered them encouragement in new endeavors. For those who remained unmarried, their experiences as yeomen (F) created new avenues for women to pursue earning wages to help their families and themselves. Career women, many spending their lives in government jobs, provided a much larger and diverse world for themselves than the traditional paths of factory or domestic work available in the 19th and early 20th centuries. Regardless of marriage status, many of the women made time for charitable endeavors, and many remained dedicated advocates for veterans throughout their lives. The courage and persistence of the yeomen (F) in pushing the boundaries of women's achievements, often in the face of adversity, remain an inspiration for all of us, as we embark on a second century of women's suffrage.
Note: Census records on the yeomen (F) were obtained through https://www.ancestry.com and https://www.familysearch.org/en/ by inputting each individual name into their search engines. Family Search also has a number of veterans' records and enlistment scans. All Boston Globe articles were obtained at https://bostonglobe.newspapers.com/search/#.Voter Registration information was gathered from the Voter Registration Lists found in the City of Boston Archives in West Roxbury (with the exception of Frances Glover, of Wayland).
Contributed by Jane Sciacca, Historical Researcher
---
Footnotes:
Girls' High School of Boston started offering commercial courses similar to ones offered by private business schools. By 1909, the commercial curriculum was the largest department in the school: surpassing the Normal School curriculum on which the school was founded in 1851 (Olive B. White, "Condensed from: Centennial History if the Girls' High School of Boston," Girls' High School of Boston Alumnae, IMPACT, 2017, https://ghsalumnaeboston.org/history).
Jean Ebbert and Marie-Beth Hall, The First, The Few, The Forgotten (Annapolis, Maryland: Naval Institute Press, 2002), 1-10.
Labor rolls totaled 4500 in June 1917, 6600 in January 1918, and 10,000 in mid-July 1918. The armistice in November did not halt the trend, and February 11, 1919, the greatest workforce yet in the yard's history, 12,844, reported." (Frederick R. Black, Charlestown Navy Yard, 1890-1973, Cultural Resources Management Study no. 20, Vol I of III, National Park Service1988. P. 336).
Ebbert and Hall, The First, The Few, The Forgotten, 1-10.
"Gender & the Office," Early Office Museum, 2000-2026, https://www.officemuseum.com/office_gender.htm
"Centuries of Citizenship: A Constitutional Timeline," National Constitution Center, 2006, https://constitutioncenter.org/timeline/html/cw08_12159.html
Barbara F. Berenson, Massachusetts in the Woman Suffrage Movement (Charleston, South Carolina, The History Press, 2018), 73-76.
"Endearing Young Charms," The Boston Globe, Sept.17, 1958, p.11.
"Blanche Towle Obituary," The Boston Globe, Oct.20, 1960, p. 18.
"Michael W. Collins Obituary," The Boston Globe, Oct. 7, 1956, p. 21.
"Charlestown Girl Made Yeoman in the Navy," The Boston Globe, May 16, 1917, p. 4.
"Wed Hingham Instructor," The Boston Globe, Aug. 16, 1920, p. 5.
Arlington National Cemetery Explorer, U.S. Army, https://ancexplorer.army.mil/publicwmv/#/arlington-national/search/results/1/CgZjcmVoYW4SB2FiaWdhaWw-/
"Bunker Hill District," The Boston Globe, Sept. 11, 1923, p. 8.
"Mrs. Ryan, 70, of Brighton, A.L. Leader," The Boston Globe, Apr. 23, 1967, p. 79.
"Bessie Edwards Post Annual Bridge Party, The Boston Globe, Oct. 24, 1941, p. 18.
"Roxbury District," The Boston Globe, May 16, 1917, p. 6.
"Yeomen(F) Want To Be Included In Bounty," The Boston Globe, May 26, 1919, p. 6.
Ebbert and Hall, The First, The Few, The Forgotten, 112-122 and 127-8. Gertrude French Howalt was responsible for arranging that the memorabilia be housed at the Smithsonian Institution upon disbanding in 1985.
[iv] "Navy Yard Notes," The Boston Globe, June 9, 1922, p. 4.
"Lt. McLaughlin Weds Miss Esther McCall," The Boston Globe, June 15, 1922, p. 15.
"Francis McLaughlin, 80, Roxbury Youth Worker (Dies)," The Boston Globe, June 5, 1974, p. 44.
"Miss Helen M. Beecher Bride of John L. Bride," The Boston Globe, June 14, 1930, p. 13.
"Helen Bride Obituary," The Boston Globe, May 1, 1991, p. 6.
"They Went Too Near the Water," The Boston Globe, Aug. 23, 1967, p. 16.
[ii] "Marion T. White Obituary," The Boston Globe, July 24, 1993, p. 70.
"Wayland Election," The Boston Herald, Aug. 14, 1919.
"Little Theater Group Organized in Wayland," The Boston Globe, Apr. 5, 1937, p. 2.
"Father, Son, and Daughter in Rogerson Family Engaged," The Boston Globe, May 3, 1937, p. 3.
"War Time Society" (photo), The Boston Globe, Feb. 27, 1944, p. 2.
"Newly Registered Wayland Women Voter 191-1920: Who were they?" Wayland Museum & Historical Society Newsletter, Wayland Historical Society, July 2020, https://mailchi.mp/131fadc6a9b6/july2020-5491094 and The Waltham Suburban Directory for Weston, Wayland, Cochituate and Lincoln (Publisher Henry M. Meeks),1919, https://archive.org/details/walthamsuburband1920unse/
"Miss Patricia Gleason Of City Hall Enlists In Navy," The Boston Globe, Apr. 8, 1917, p. 16.
"Halts Treasonable Literature at Yard," The Boston Globe, May 20, 1917, p. 14.
"Women's Democratic Club Plans Party," The Boston Globe, Feb. 9, 1934, p. 12.
"New Officers of Bessie Edwards Post," The Boston Herald, Nov. 18, 1934, p. 15.
Ebbert and Hall, The First, The Few, The Forgotten, 112-122 and 27-8.
"Yeomen (F) Want To Be Included In Bounty," The Boston Globe, May 26, 1919, p. 6.
Helen Regan Obituary, The Boston Globe, Dec. 14, 1975, p. 75
"World War I Yeomen(F) Christen 2 Barrack Ships at Charlestown," The Boston Globe, Sept. 5, 1944, p. 5.
Ebbert and Hall, The First, The Few, The Forgotten, 112-122 and 27-8.
"Ellen Kearns Obituary," The Boston Globe, Jan. 12, 1986, p. 54.
"Veteran War Dept. Workers Are Honored," The Boston Globe, June 4, 1944, p. 21.
"Funeral Rites for James P. Gillogly," The Boston Globe, Sept. 15, 1924, p. 4.
"Notre Dame Statue Consecration Sunday," The Boston Globe, Nov. 21, 1947, p. 19.
"Elizabeth Gillogly Obituary," The Boston Globe, Jan. 7, 1984, p. 27.
The Boston Globe, May 15, 1918, p.10
Ebbert and Hall, The First, The Few, The Forgotten, 112-122 and 27-8.
Alice G. Driscoll Obituary, The Boston Globe, Nov. 9, 1969, p. 94.
"Women To Plan For Legion Convention," The Boston Globe, Mar. 21, 1930, p. 17; "Bessie Edwards Legion Post Instals [sic.] Officers," The Boston Globe, Nov. 3, 1933, p. 15.
Jane Carney Obituary, The Boston Globe, Dec. 19, 1982, p. 78.
"Francis G. Kane Post To Hold Its First Reunion," The Boston Globe, Nov. 6, 1919, p. 2.
"Nancy Carroll Sends Greetings By Pigeon," The Boston Globe, Feb. 21, 1930, p. 8.
Angeline Maney Obituary, The Boston Globe, Aug. 15, 1951, p. 19.
"Anxious To Rejoin 'Watchdog' Fleet," The Boston Globe, May 4, 1918, p. 10.
Conversation with Framingham City Clerk, January 2020.
"Yeomanette, 51, 'and Proud of It,' Passes WAVE Physical," The Boston Globe, Aug. 28, 1950, p. 21.
Ebbert and Hall, The First, The Few, The Forgotten,134.
"Hub WAVE Vet In JFK Parade," Boston Daily Record, Jan. 16, 1961, p. 13.
"To Sell Naval Song At Yeoman's Ball," The Boston Globe, p. 4.
"Bunker Hill District," The Boston Globe, Aug. 29, 1919, p. 9.
"War Women Form Their First Post," The Boston Globe, July 9, 1919, p. 4.
"Veterans Posts In Row At Charlestown," The Boston Globe, July 28, 1920, p. 18; "Proposed Merger Is Protested," Boston Post, July 1919.
"Women's Legion Post May Remain," The Boston Globe, Feb. 10, 1921, p. 6.
"Women's Legion Post Loses Charter," The Boston Globe, June 15, 1921, p. 1.
"Bunker Hill District," The Boston Globe, Dec. 22, 1921, p. 9.
Elizabeth Foxwell, "Daisy May Erd, Yeoman (F) and War Composer," American Women in World War I, Word Press, 2015-2020, https://americanwomeninwwi.wordpress.com/2017/05/22/daisy-may-erd-yeoman-f-and-war-composer/